Waste car truck tires recycling machine automatic tire Recycle Plant
Introduction
Kowloon tire recycle plant is mainly used for crushing steel wire tires, radial tires and various waste rubber products into rubber granules or rubber powder with required fineness.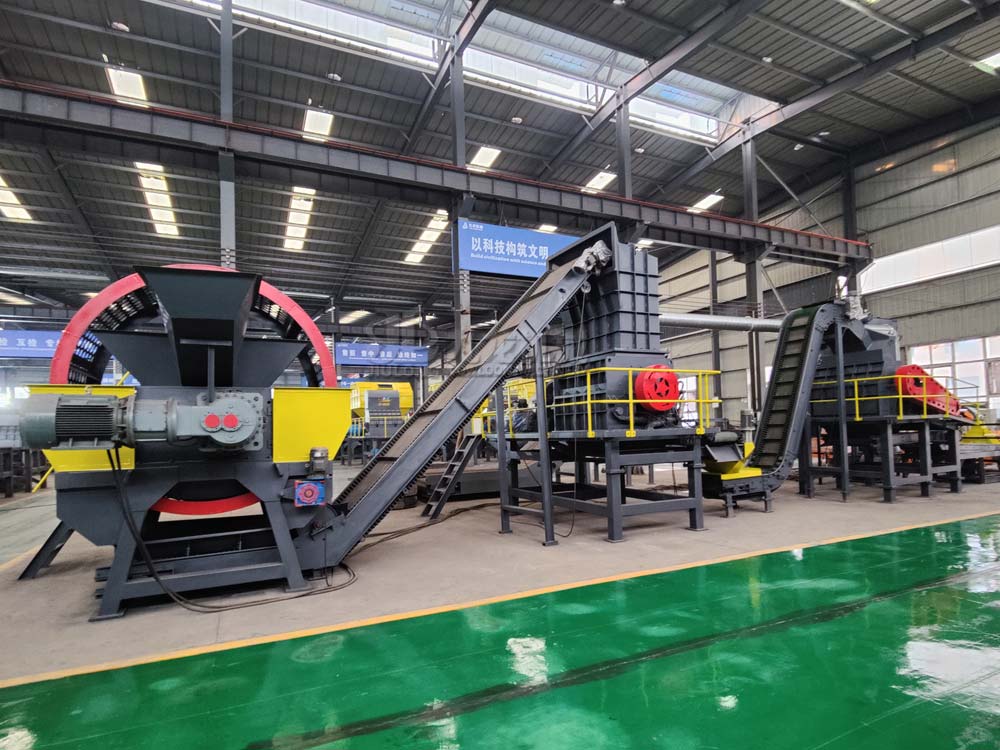 In recent years, with the rapid development of car industry, the virgin rubber has become increasingly scarce. So how to effectively use scrapped tires has become an urgent problem for all mankind. After several year's painstaking research and learning from the advanced foreign experience, Kowloon Machinery has successfully developed an automatic tire recycling line, which can handle all kinds of used tires. The features are being easy to operate, competitive price, high production efficiency.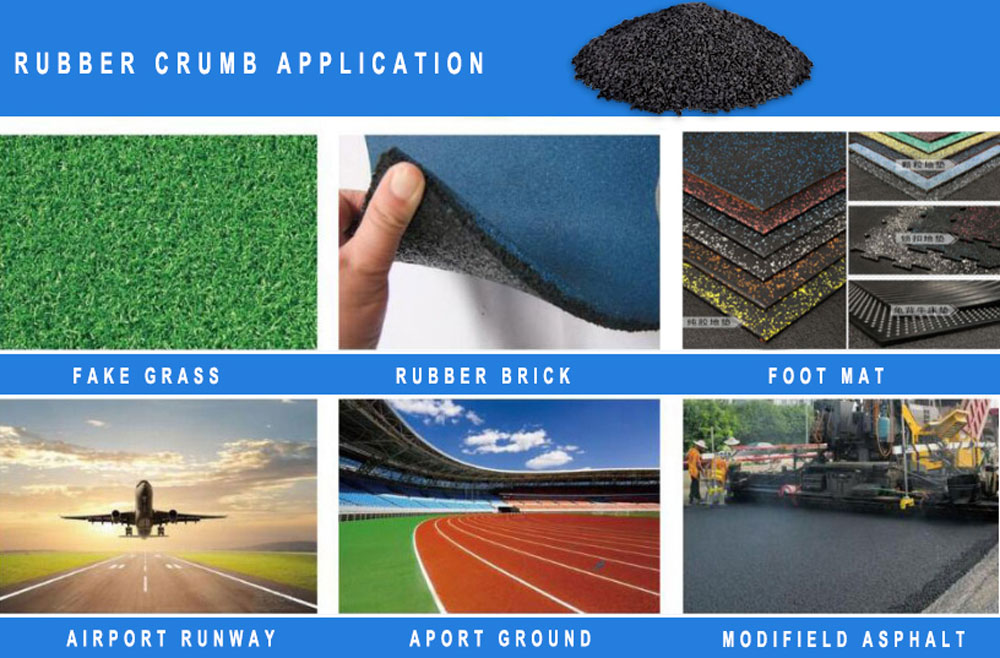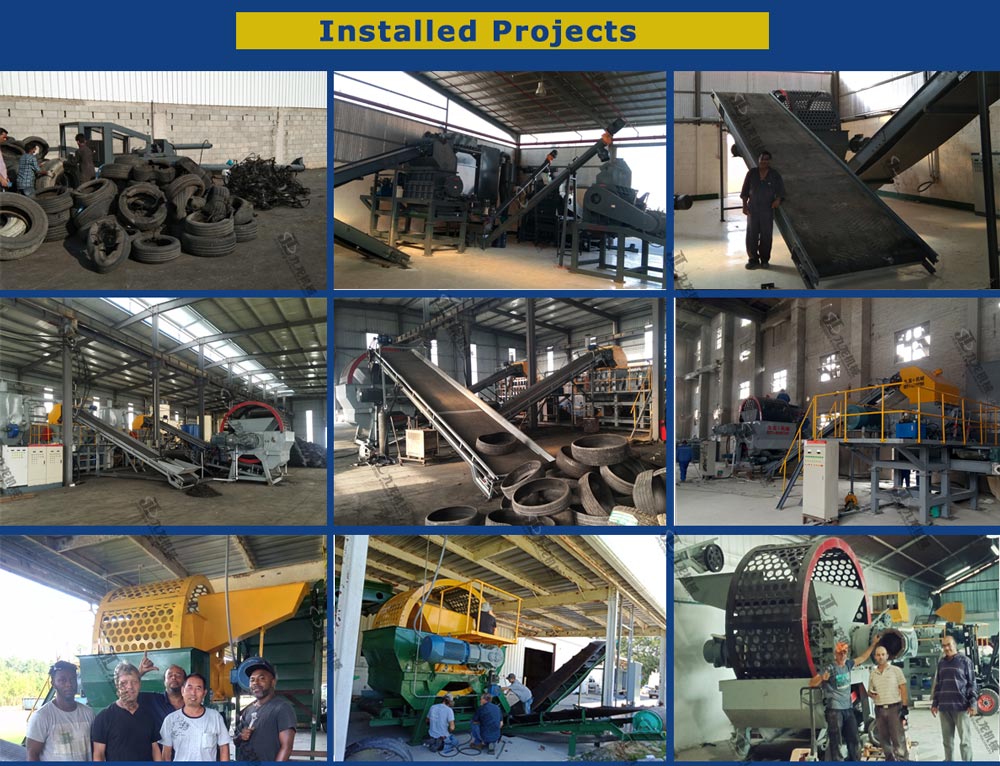 Waste tire recycle line (output powder) working section
1. Tire debeading: remove bead wire in truck tires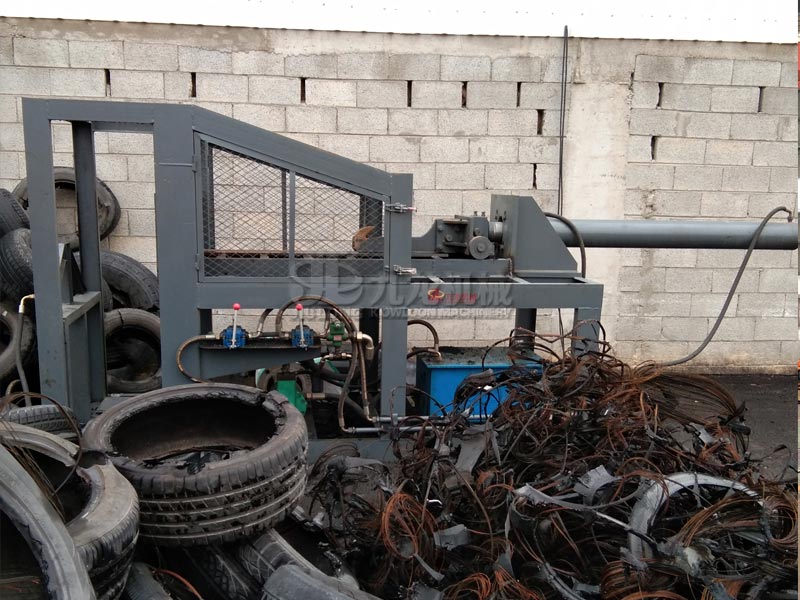 2. Tire pre shredding: sheared by JLTS tire shredder, output 80x80mm and less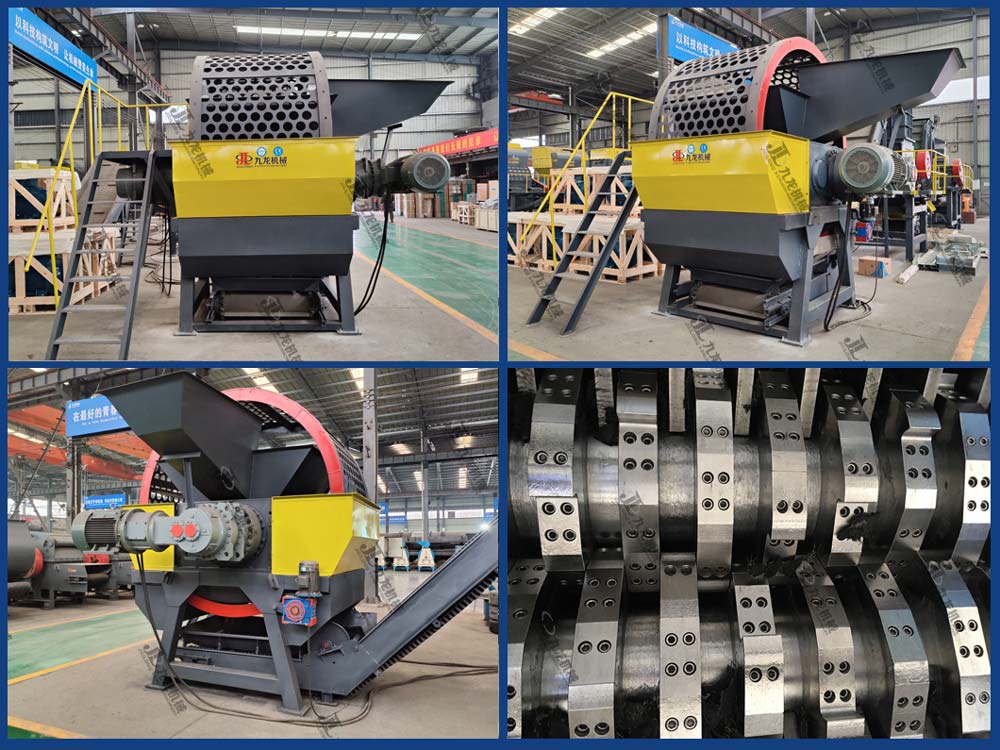 3. Tire shreds rasping: secondary downsize tire shreds, separate 98% tiny wires, output 10-15mm steel free rubber mulch.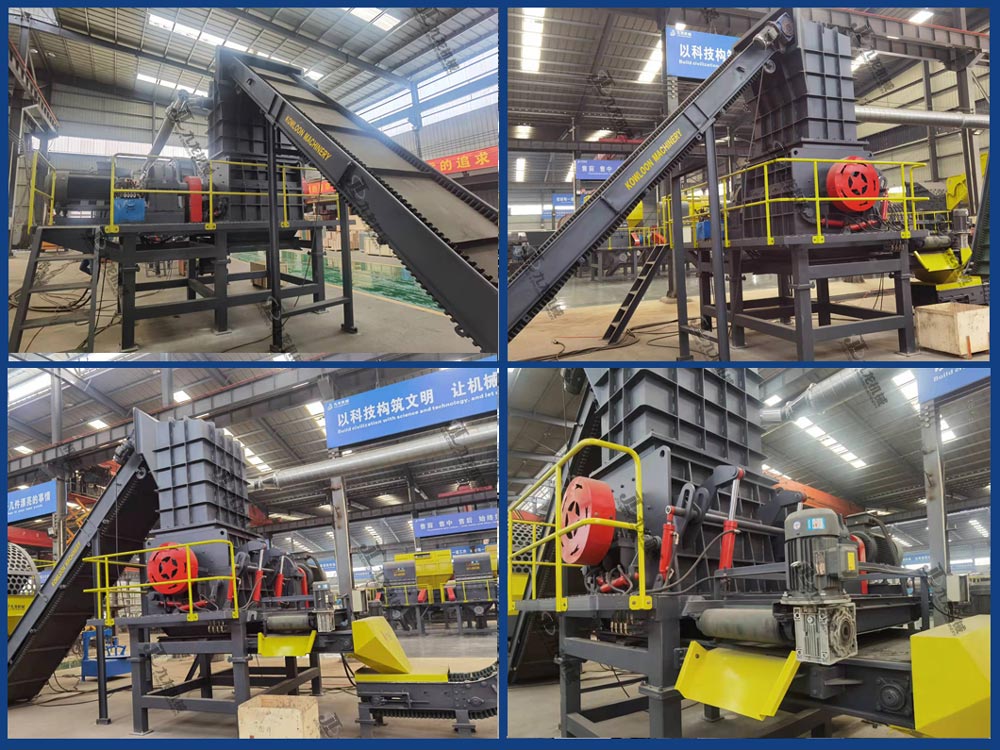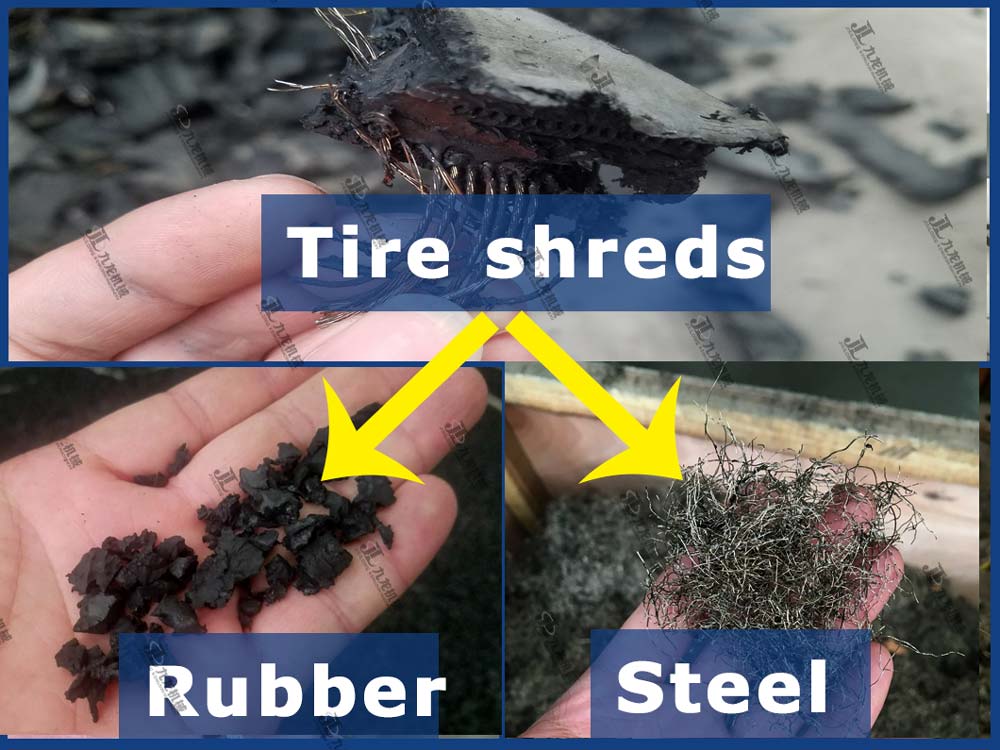 4. Fine granulating: fine chop rubber mulch into crumb, output 1-7mm rubber granules.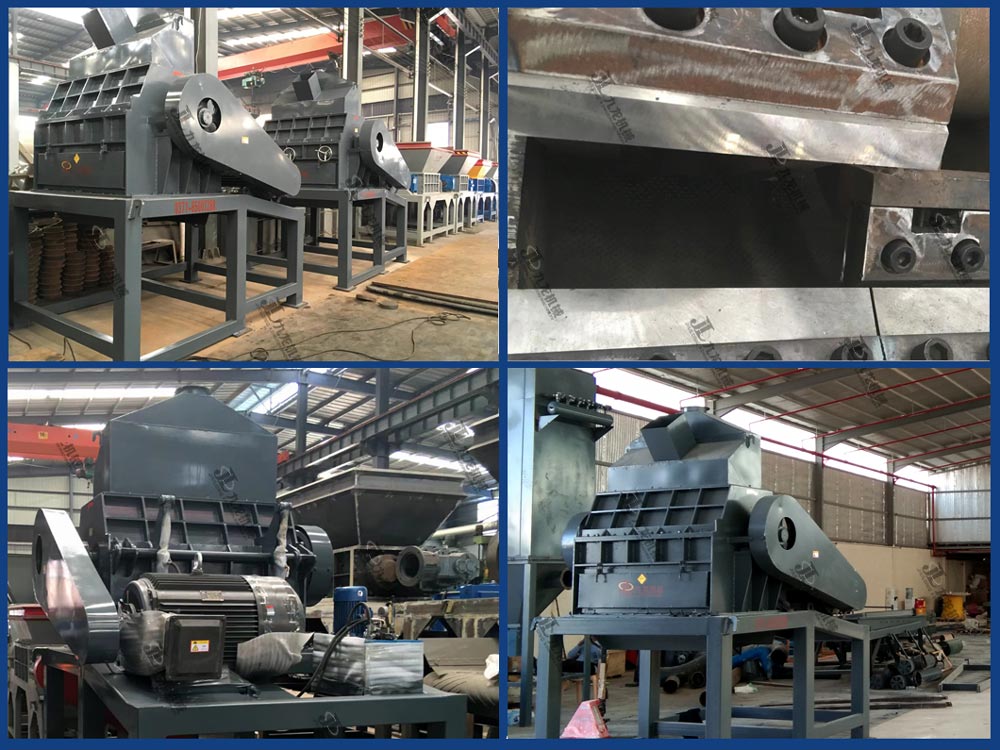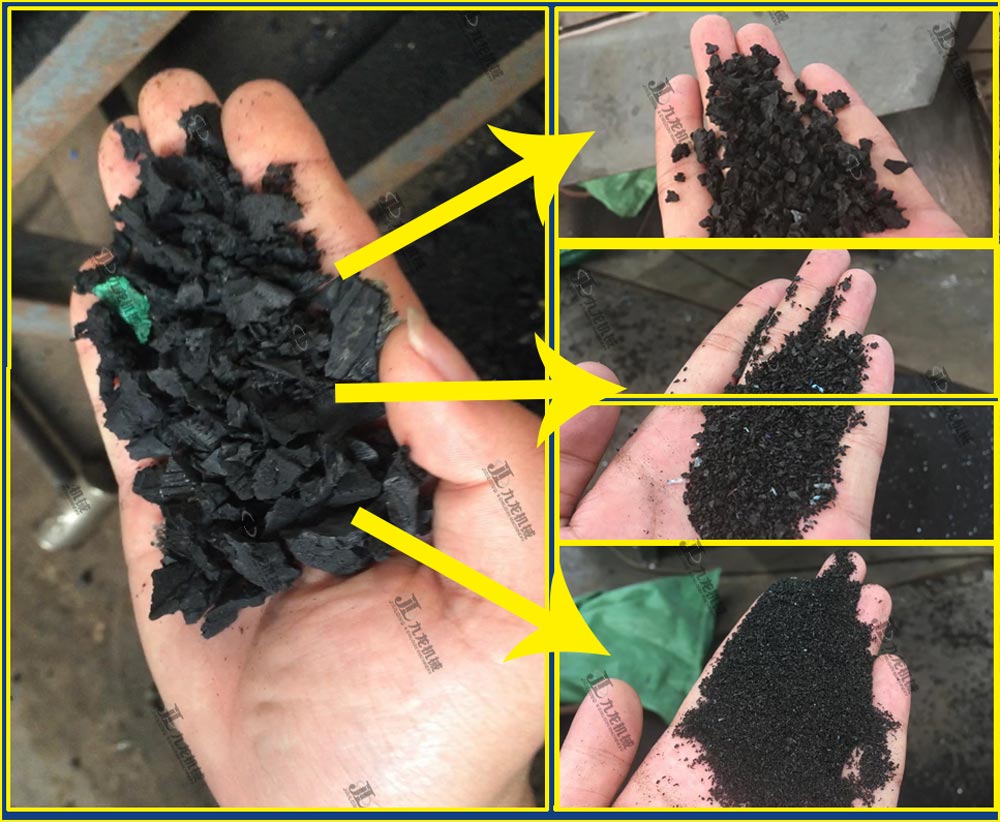 5. Screen classification: rubber crumb pass through sieves of vibration screen table to get different output size.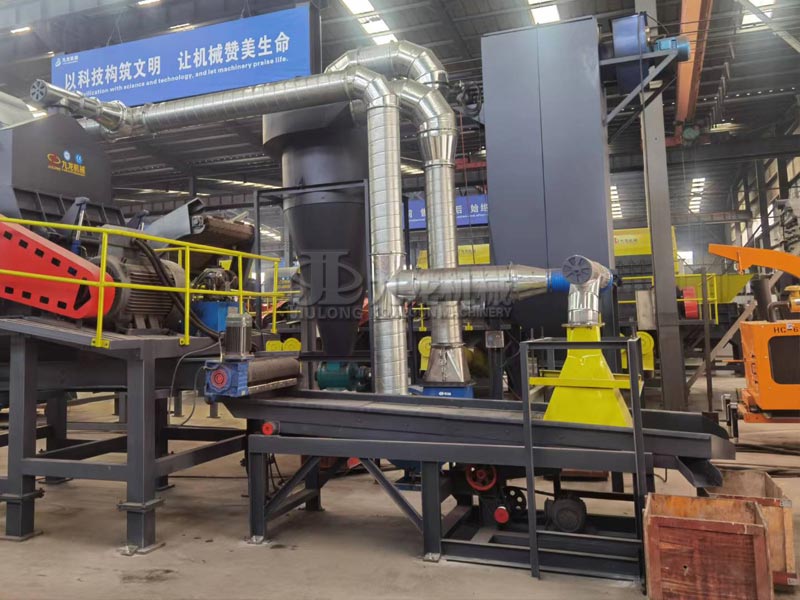 6. Fiber separation: coarse fiber collected by negative pressure blowers which above vibration screen table, output from cyclone which with air-lock valve.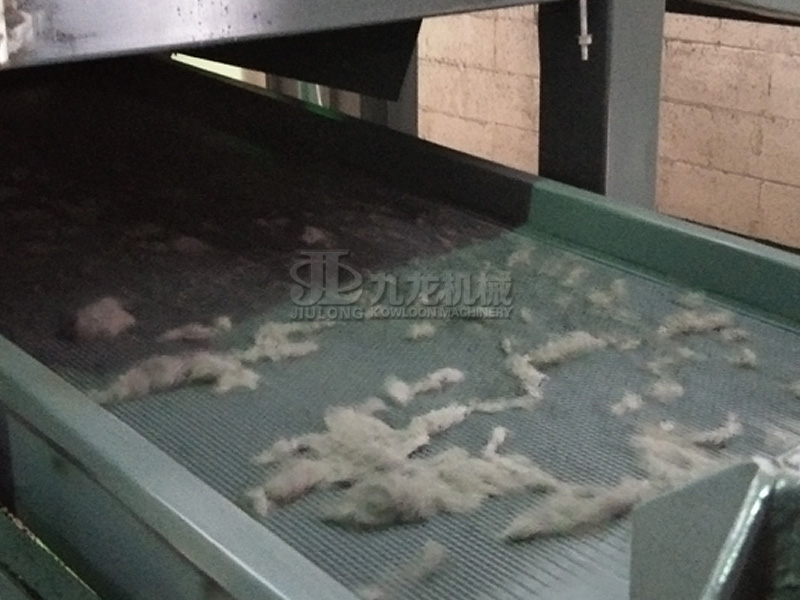 End product application
Kowloon tire recycle plant is mainly used for crushing steel wire tires, radial tires and various waste rubber products into rubber granules or rubber powder with required fineness.
1. Sports venues: runways, school sports fields, swimming pools, garden trails, bowling alleys, sidewalks, kindergarten sports venues, tennis and basketball courts.
2. Car industry: floor mats for trains, brake disc ribbons, fllrs for cars and trucks, brake bushings, sealing strips, bumpers, shock absorbers, etc.
3. Construction / Equipment: adhesives or sealants, medical equipment, insulating rubber, carpet liners, waste brake surfaces, molded products, etc.
4. Geo/Asphalt: drains, filters, soil conditioning, road cover, horse racing tracks, railway crossings, etc.
5. Recycled rubber: to re-make various rubber products.
6. Pyrolysis tire rubber into fuel oil, diesel oil or refining gasoline




Delivery &Shipping
1.Plastic wraps to protect wood shredder, tire shredder from dust, moisture and corrosion.
2. Wooden case for compact machine or wearing parts as the outside package. Or according to the customer requirements.
3.Excellant logistic team to guarantee the shredder machines to be safely shipped to customer warehouse, no extra fee on export or import on custom.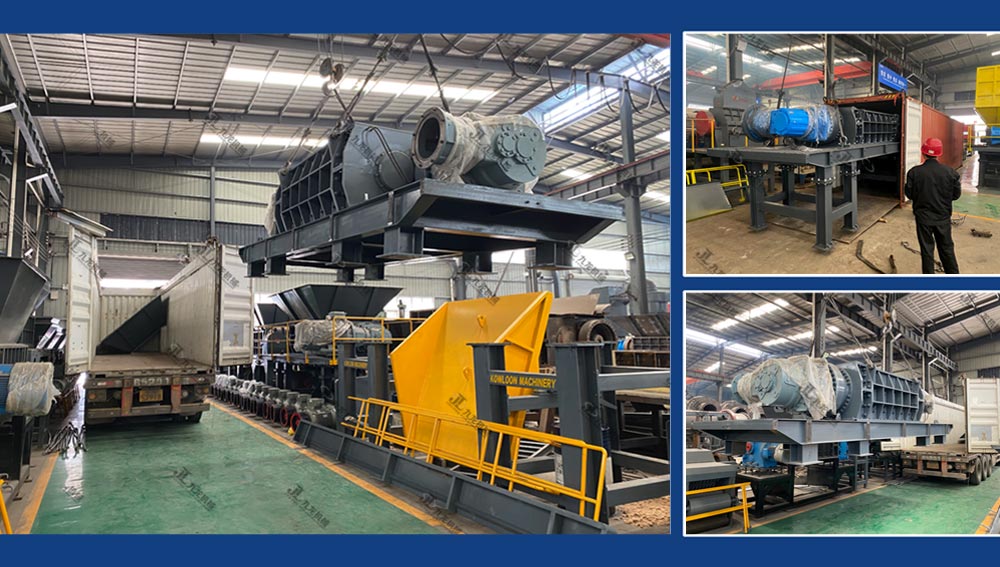 Kowloon Service
1. Pre-sales: Provide fitted solution and offer to customers, is able to adjust the layout of complete line to fit customers¡ˉ working area, also provide technical support 24 hours service online.
2. After sales:
Kowloon skilled technicians are experienced at oversea installation, therefore they are available to assist with onsite installation, commissioning & training on request. Layout drawing, circuit diagram and maintenance manual will be provided together with our products after sales, so that ensure customers have plenty of time to get prepared for installation.
3. Wearing parts support
Kowloon has widely built extensive cooperation with wearing parts partner manufacturers more than 14years, has ability to continuously provide wearing parts and after-sale service to global market.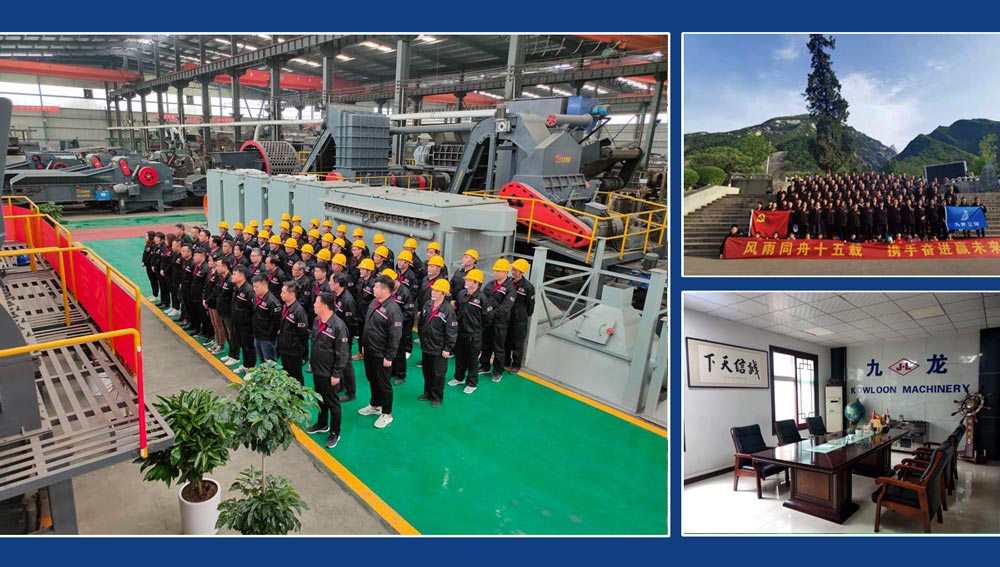 Company Introduction
Kowloon Machinery located in industrial hub of Zhenghzou city, China, design and manufacture industrial shredder, wood processing machinery, waste tire recycle equipment and scrap metal recycling machines. Kowloon products approved by CE and ISO certificates. Up to now, we have exported to more than 30 countries and share markets in worldwide, and now are still growing continuously.
We effort on improving and researching, in past years, various of new products were developed and becomes popular in domestic and abroad market, won good reputation and corporate image, we always effort on best quality and service, welcome to inquiry!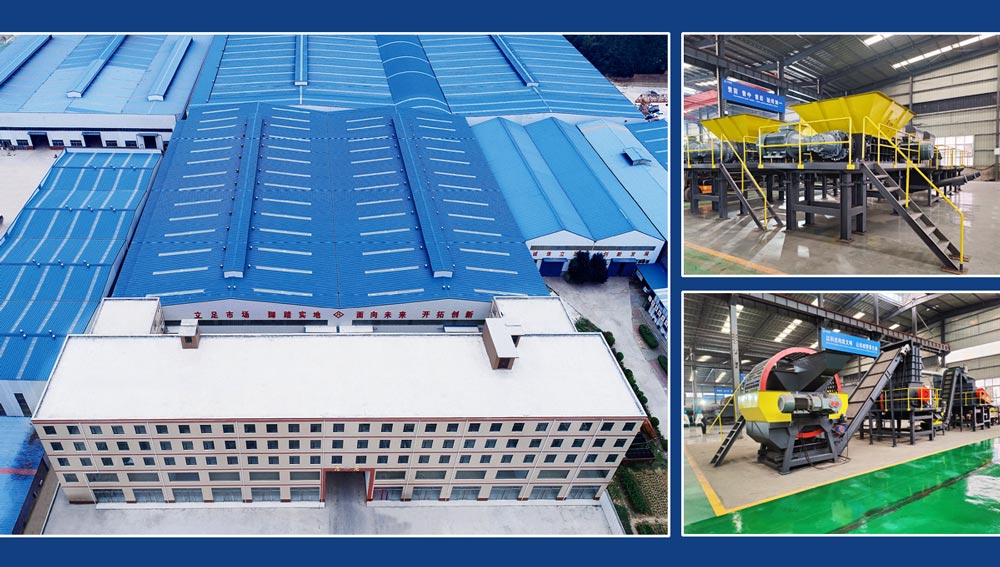 Fast answer and question:
1: Are You Trading Company or Factory?
Kowloon Machinery is a Factory with 31 years experience in machinery manufacturing; we provide you completive Factory Price and good After-sale Service!
2: What about the Machine Installation?
For a single machine or a simple line, we provide you Foundation Drawing ,Installation Instruction Books or successful installed machinery picture or video; for large machines and complex production line, we could send our engineers to guide the installation if necessary
3: How About the Spare Parts?
We offer some free spare parts like belt, gasket etc small parts, for the BLADES, KNIVES, SHAFTS etc important wearing parts, we suggest customers buy some along with the machines to save the shipping cost, and we have enough spares parts in stock.
4: What Will We Do If We Have Problems in Machine Working After We Buy the Machine?
Kowloon has people special for after-sale service,if customers outside China have problems when machine working, just feel free to send us the picture or video to show us, we will give you solutions in 24hours.
5: Could We Visit Your Factory and Test the Machine?
We warmly welcome you to visit our factory anytime, and we are very glad to test our machine with your raw material.
---